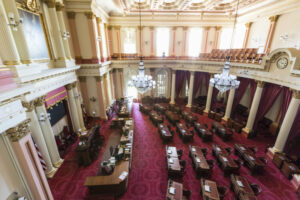 As if workers didn't have enough to deal with while trying to navigate the coronavirus pandemic, California has gone and made matters even worse. The state is suing rideshare apps Uber and Lyft for violating the state's AB5 law by allegedly misclassifying workers as independent contractors, instead of employees.
We've covered which unions are funding the lawyers behind this suit, but we haven't discussed what will happen to gig workers if these attorneys — and their pals in the labor movement — actually get their way.
A new report from the Berkeley Research Group found that "forcing app-based delivery and rideshare drivers to become employees would result in eliminating 900,000 jobs, reducing the number of drivers needed in California by 80 to 90 percent."
It turns out, 80 percent of drivers in CA work fewer than 20 hours a week, with most working less than 10 hours per week. That means when these workers are forced to become employees — and to comply with less flexible work schedules  — the number of app-based drivers "needed to satisfy consumer demand" will drop by 80-90 percent.
Right now, over one million Californians use ride-share or delivery apps to make additional income. But if the state's union-backed attorneys successfully reclassify all of these workers as employees, it could leave 900,000 CA workers without their gig.
One gig worker who switched from ridesharing to delivery after the coronavirus hit had this to say about AB5 and the lawsuit: "These new laws and lawsuits that try to take away our freedom to choose flexible, independent work will kill jobs and take away chances to make money in the midst of an economic meltdown. It makes absolutely no sense."
Another worker who's been using the gig economy as a way to pay for his college tuition mentioned the countless individuals who would be hurt by this change, including "students who need the flexibility to work around school schedules, working people who need to supplement income, seniors who want to work a few hours a week to support their retirement."
According to the Bureau of Labor Statistics, "79 percent of independent contractors preferred their arrangement over a traditional job." But unions like the United Food and Commercial Workers (a long time supporter of the CA Attorney General bringing this lawsuit) don't seem too concerned with what workers would prefer.
Judging by labor's support for AB5 — a law that has already cost thousands of Californians their jobs — the UFCW and other labor unions have no issue taking away opportunities or flexibility for CA's gig workers, so long as they can increase their number of dues-paying members in the process.